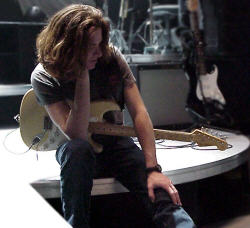 Dominic Miller
Dominic James Miller was born March 21 of 1960. Born to wonderful parents Dominic spent his boyhood in Argentina. He has given the credit to his eldest Sister for teaching him how to play the guitar. Dominic said..."I was born and brought up in Argentina. And in South America. The guitar is the most popular instrument - bar none. So it was very clear for me to pick it up, not least because my family played guitar. My eldest sister taught me how to play and the first thing she taught me was Brazilian music. That was the most natural thing to me, as a child." Dominic moved to Wisconsin when he was about ten years old, where he attended Old Prairie School. He later moved when he was about thirteen to England and attended Guildhall School of Music in London. Dominic still lives in London, that is when he is not on tour!
Dominic has four children: Rufus, Otis, Harley, and Misty. They are the neatest people you will ever meet. Rufus is the oldest who is sixteen, he plays the guitar almost as good as Dom. Otis is an excellent writer; he is fifteen years old. Harley and Misty are the cutest kids. They both are learning to play the guitar and with Dominic's help, they are making their own CD's.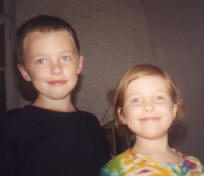 Harley and Misty.
It is a known fact that he is the greatest guitarist in the world. If you don't believe that then you need to listen to one of his albums. He turned pro at age sixteen!! Dominic has recorded for many artists such as Phil Collins, Sheryl Crow, Backstreet Boys, Julia Fordham, The Pretenders, Level 42, King Swamp, Bryan Adams, and Sting. Dominic has played for Sting ever since the Soul Cages album. He has played thousands of gigs and has been on four world tours with Sting. The Brand New Day tour was the longest tour, being two years and exactly two months long. It started in Las Vegas and also ended in Vegas on December 14, 2001. Of all the Sting concerts he has played at, we asked him what was his top three. He replied, " Having done over a thousand gigs it's hard to name my favorites. But I'll try. Marseilles '96 on Mercury Falling tour, Madrid '91 on Soul Cages tour and probably Central Park NY 2000 on this tour." We also asked him which tour was his favorite, he answered by saying, "Naming my favorite Sting tour would be like trying to name a favorite kid of mine. They're all special to me in their own unique way. Having said that, Soul Cages was the most exciting because it was the first."
Dominic owns over forty guitars. Many of them made just for him. His favorite are his '61 Fender Stratocaster (all original except a nut) and his classical which is a Rodrigues. He is known as the "Nylon String King," because he uses them so well. While we were in Las Vegas, he gave us both a set of his specially made by Fender nylon strings. Nice, huh?!? Although Dominic is a guitarist, he is able to get around keyboards, bass, and percussion quite well.
Some of Dominic's guitars!!!
Some of Dominic's favorite bands are the Beatles, Nirvana, and Eminem. His greatest influences are Jimmy Hendrix, Jeff Beck, and Jimmy Page. Dominic has had two incredible solo albums released. First touch in 1995 and Second Nature in 1999. He is now working on a new one which will have new material as well as some Bach pieces. He is also working on material with his band "The Tweeters." Which is made up of Dominic, Manu Katche, and Pino Palladino. Hopefully they will tour some place in America, so we can go see them!
Like we said earlier, Dominic is the greatest guitarist in the world, but when we asked him if he knew anyone who could play better than him, he said the following " No one plays better or worse than me. We all play differently. But I suppose the only people who play worse than me are people who are trying to play like me. By the same token, when I try to play like Hendrix or Beck, they're better than me." Neat, huh? That proves that he is the greatest and a totally humble person.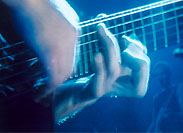 Return to Index.